Almost 2 months since that last trip and hurrah I have finally secured a breather where I can finally sit my butt down and do my LFW post on my favorites.
Inspired and enthralled by the current excess of impressive visual and visceral delivery witnessed and stalked on Instagram, there are a number of collections need to be noted of during my coverage of the London Fashion Week shows back in September. The energy was rife with creativity and presentations were as out of this world as their collections deem to reflect, so here're some of my noteworthy labels and their indelible delivery of SS16 line-up.
Belfast 
Somewhere behind Baker Street was this majestic space made to look like sand dunes with models strewn around and a projection and feel of the beach. With an array of neo-utilitarian looks that comes in the most freshest of hues, to say Belfast's SS16 collection is effortlessly cool is an understatement.
Fyodor Golan 
Its no guessing to why this label is one of Miley's fave (she wore some of the pieces from the label for her VMA spots), the brand is synonymous with everything animated and pop culture icons that he often included in his line-up. For SS16, think Grimes; futuristic goth references with those flatform shoes, and geometric shapes spliced together like the 50s sci-fi femme fatale you'd most like to be like.
Anya Hindmarch
Another recurring theme for this season is definitely retro structures and patterns that were also spotted at the Anya Hindmarch show. If the heavy flickering LED setup had not bring you back to the sci-fi eighties, the Apophenia-laden collection should remind you to double up on your logomania. Carefour, John Lewis, Mothercare you name it; British household names on your high-fashion totes and Boots!
Sophia Webster
One of my fave shoe brands overdid it on their recent press presentation ( and them shoes!) is defo this lovely label. In an almost under-the-sea laundromat context, mermaids, sea creatures, huge clam shells open to up to the whimsical setup of Sophia Webster's aquatic-laden presentation. Coral-lined heels , shark tooted gladiator shoes are just a few that you could nitpick to go gaga about.
Markus Lupfer
Stealing inspiration from the barren deserts of Mexico in comes this wondrous illustration of apparels bringing desert bloom to life. Markus Lupfer's delivery for spring is Mexicana; luchador prints, desert flowers  and those oversized wrestler-worthy glasses; indeed another winning delivery of fun wearable art conducted in a fantastic space and landscape.
Faustine Steinmetz
Favored and buzzed by many of the fashion bunch, Faustine Steinmetz is a name that has shaken the emerging designer's scene in London. Known for her remarkable artisanal touch on denim, this season she delivered a masterful presentation on her forte of fraying and deconstructing materials. She had models break through the presentation wall in various forms to showcase different facets of her pieces.
A designer well known to reinvent basics, Faustine has done it again with her approach in creating a work of art from an otherwise cliched collection.
J.W Anderson
The cool kid off the block, only a wunderkind like JW Anderson may perhaps relive the Victoriana days back into the century. This is one of the most exciting designers to emerge, promising to plate up something arbitrary on the catwalk. When the who's who of the fashion world descended there was no doubt that Anderson's creations for SS16 are slated to be a talking point; leg-o-mutton sleeves, bags styled in criss-cross method and larger-than-life ruffles on display shows Anderson's brazen attitude in bringing new trends into the world. While the world isn't ready for a little bit of JW Anderson, but I can bet some of the street style scenesters would be ready to brace themselves in some of the zany pieces from his collection.
Ashish
Indian designers and I can settle for one thing; glitter and sequins. For his SS16 show, Ashish took on the sparkly concept to the extreme, as he was often well-known for. He sent out models bedecked in the most badass girliest frocks the way you would not have though glitter to be an emancipating, statement of the rebellious youth. In skateboards no less!
Burberry
I have always been fascinated with heritage brands, Burberry, being the iconic symbol of British fashion, is definitely an undeniable force that steers the emblematic fashion DNA of the UK. Now and then Christopher Bailey conjured beyond just beautiful clothes but an enigmatic showcase that merges the old and the new. Combined with the brand's approach on bringing the shows closer to the public, the brand has established a following amongst the cool and the aspirational; even incorporating kitschy details like personalization of backpacks and streetwear updates in true Burberry-ticked style. Rock and roll is the common theme throughout, so he broke out all the models in classic black trenches in cool gold hardware and daring men in lace and gender-bending paisley and liberty prints.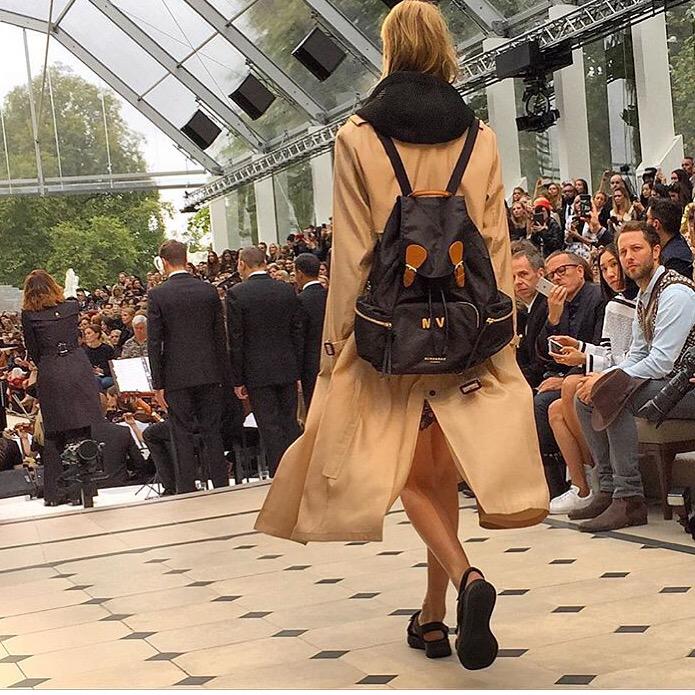 Phoebe English 
Featuring a stunning presentation at the Royal Surgeons Hall in London, Phoebe English's poignant delivery. The up and coming designer won the critics with a front row seat into the mind of English; bringing forth to the designer's emotion of displacement seen on the construction of her garments, or rather, deconstruction of the garments. Tailoring done inside out, gauzy effects, fringes and frayed elements alluding an expression to her work of the pieces.
Helen Lawrence
Now how do you go about with knits in summer? This was what Helen Lawrence was all about. Who would have thought grandma's favorite past-time could pass off as one of fashion's most buzzed about article of clothing to own for SS16! Upon entry into one of the SoHo showspace, models strewn out across the floor with blankness in their eyes; my guess was to amplify the nonchalant cool gaze the clothing calls for. It was nice to observe the models were all of color and in many shapes and sizes, with clever constructions of contemporary fashion remade with a skill merged to the tunes of current demands of style.
Gareth Pugh
Finally, a top pick of mine would be Gareth Pugh's show, of his honoring of SoHo's most legendary drag queens and quirky character fixtures. Models came out in lieu of Gareth's vision of the once bustling SoHo scene; decked in these bank-robber masks with animated makeup applied onto the mask and fiery big red hair and super leggy looks; as if to re-imagine these figures walking along the dark, scandalous corners of SoHo. Keeping up with the grotesque is usually Gareth's modus operandi, and it did so with his ode to the 70s silhouettes and disco garbs; an insinuation of the death of the SoHo scene around that particular era.
If anything, drag queen culture is one of the most intriguing in my list of interests, and Gareth Pugh's eureka piece after a long hiatus is a no-brainer as top of the heap.
xx