We were on a tight schedule, and chasing our time in Vegas was paramount to get the best of what the city could offer. Starting with the weird and wonderful of the city; here was how we spent the few days that we have in Sin City.
After the epic Britter concert last night, there was only one other thing left to do: visit the Pawn Stars shop aka Gold and Silver Pawn shop in Vegas!
As hubs is a major fan of the show, the visit was a must-do; and I was intrigued to visit the area as well.
There were hardly any long lines there, so I was p
roper enjoying the tour around the premises.
There were plenty of unique and odd knick-knacks for sure; but hubs was keen on these authentic lithographs of Dali and Picasso. We purchased two from the shop just because. While we didn't manage to catch any glimpse of the Pawn Stars celebs..
but lo and behold!
Mark Hall-Patton made an appearance!
We didnt get any glimpses of Chum Lee, but this shot was well worth it 🙂
with that wraps up our visit, I went around to take snapshots..
Soon after, with plenty of time in our hands, we headed out to Neon Museum aka neon junkyard; a place where a non-profit organization in Vegas kept and restored all of those iconic neon lights of the glory days. The place wasn't too big, but a tour explaining the history and background of each of the signs were pretty lengthy; so photo-taking was abound.
an odd flannel shirt-wearing cowboy with palm-tree motif emblazoned on shirt lol..
It was also hot, hot, HOT!
but out of all the signs, the Stardust one was the most iconic one; something that everybody could identify as a truly Vegas welcome way back when.
After heading back to rest and recover, we headed to one of the most revered shows in Vegas; the Michael Jackson's ONE Cirque du Soleil show.
As fans of the late King, we were on it. It was heaving with people, and my outfit somehow matches the dancer's pre-show outfits (I was wearing a red trench and my husband was abusing me for it!!)
Before the show starts, we got to see actual clothes worn by Michael himself throughout his career; and let's not talk about how their MJ souvenir shops have actual LED-lit-up gloves (that I wanted but hubs obviously laughed it off, hampeh).
Yes to this jacket, MJ!
Unfortunately, we weren't allowed to snap pics while we are in the show; but throughout the 2-hour, adrenaline-pumping show; it was the best $380 spent for a theatre show. <3
Insane dance/acrobatic moves and a wonderful tribute to MJ. I cried seeing the some segments of the show especially that bit where they played a hologram of MJ dancing next to them which then morphed to a younger Michael at the end; oh and it was played to the tune of Man in the Mirror (hancurrrr!).
Please, do not miss this when you're ever in Vegas!
Day 5
To be honest, I had really no idea what day we were at; but what I do know is that we were at the most anticipated segment of the trip. 🙂
It was our Grand Canyon excursion!
By car it would have taken 2 hours, but by chopper, you hover for 45 minutes from Boulder City Papillon Tours plus a lunch at a spot impossible to reach by foot. <3
If you're concerned about making it on a helicopter ride, well, you should. I'm not terrified of heights, but am an aviophobia. Check the weather report and wind conditions before you book your tour; if you think airline turbulence is bad; then choppy winds in a small heli is worse than that (DED) But for some reason, I wasn't paying attention so much to the drops..it was too awesome of a view to think anything else.
That's Boulder City! (approx. 30 minute drive from the city)
As we were hovering, the pilot was awesome enough to play sick tracks to go with our jaw-dropping tour; think lots of pre-EDM Coldplay and The Eagles <3
First view of the Hoover Dam
Lake Mead
and then, the sight expanded to this..
surreal was too weak of a word to describe the view..
The helicopter then slowly descended to one of the cliffs for a quick lunch and photo opportunities.
Lunch was a simple meal of turkey sandwich, cookies and a bubbly champagne. If you can stomach them after a choppy trip; apparently tours for the next slot were cancelled due to heavy winds. I could barely enjoy my meal!
30 minutes fly by, and we're back to where we started, but not without covering 3 states at the same time 🙂
A section of Arizona
A section of Colorado..the famous Colorado river!
Landing over in Nevada, while hubs opted for some gym time; I went off to discover new Vegas,
Old Vegas and Seven Magic Mountains by sundown.
I honestly preferred downtown Old Vegas; where they have those quaint wedding chapels for that quickie weddings (celebs like Britney, Joan Rivers and more have gotten their nuptials done here)
also found a vintage treasure shop in the section of the city too <3
Got myself a Grace Wales Bonner-esque bolero jacket and sparkly coat :3
The shop was ran by an adorable old black woman who had just moved from California to Nevada. We're both newbies to the city in a sense hehe.
more photos after a quick stop to shop.. exploring the adorable motels around the city..
 After taking some time out to snap, I headed over to Seven Magic Mountains, an installation roughly 10 miles outside of the city; in time for that perfect sundown shot.
Built by artist Ugo Rondinone; it is a large-scale site-specific public art installation located near Jean Dry Lake and Interstate 15, approximately ten miles south of Las Vegas, Nevada. Comprised of seven towers of colorful, stacked boulders standing more than thirty feet high, Seven Magic Mountains is situated within the Ivanpah Valley adjacent to Sheep Mountain and the McCullough, Bird Spring, and Goodsprings ranges of mountains. A creative expression of human presence in the desert, Seven Magic Mountains punctuates the Mojave with a poetic burst of form and color.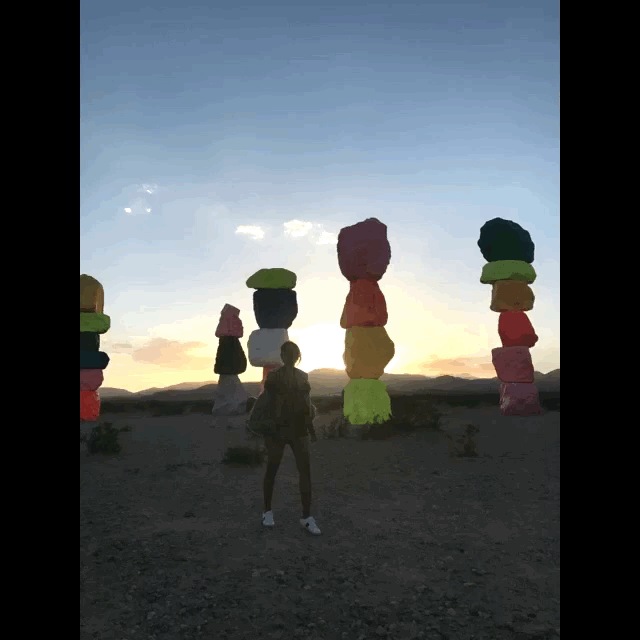 Perfect end of the day..
and Vegas by night..
Stopped by the biggest souvenir shop in Vegas.. (wearing the jacket I brought from that vintage shop).
Watching the fountains dance at the Bellagio
Day 6: Checkout day
Although I still feel I had not explored Vegas whole-heartedly, we were eager for some intense driving at Death Valley! 5 hours of dirivng with periodic stops before ending our day at Bakersfield to rest.
A must-do epic driving experience from Vegas. starting from rolling hills, canyons and Martian-like valleys.
miles of no gas stations, guys, so be prepared to be well-stocked with water.
To our first stop: Zabriskie Point:
Then to Devil's Golf Course (Do NOT go with a 2 wheel-driver!)
and that infamous, Badwater Basin salt flats..
The road towards Artist's Palette.. hills and pastel-colored appearance formed when volcanic rocks deep underground interacted with hydrothermal systems to form concentrated mineral deposits.
The desolation and beauty of Artist's Drive, on our way to Bakersfield.. it didn't stop there..
A stop by the sand dunes.. Mesquite Sand Dunes
A stop for some grub we packed while looking at this view..
From desert plains to snow-capped mountains of Sequoia National Park <3
We reached Bakersfield at 8pm after 5 hours of driving and stopping when the journey could have been just 4, but the stops were out of this world.. We rest before heading to our final stop- Santa Barbara the next day.
Wait for my final chapter and pics soon! x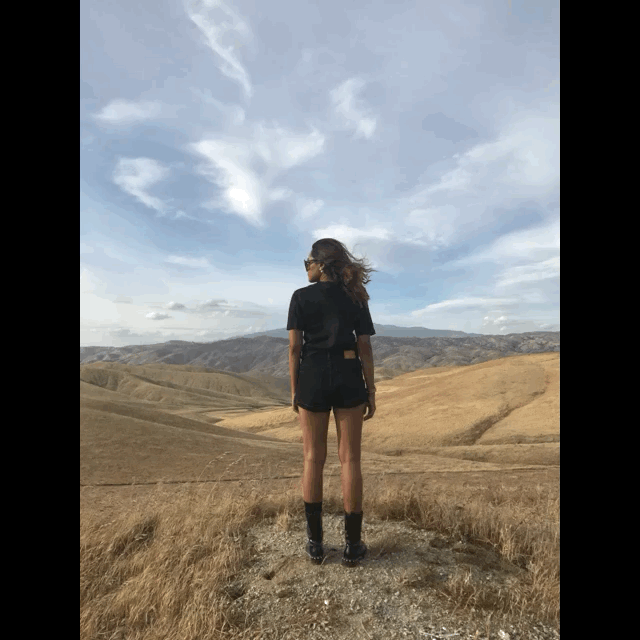 ___________