It's the most wonderful time of the year indeed!
If there is a time to be a little bit excessive in your spending, it would be the month of December, when I can brush off that guilt of exploiting my material desires as a pat on my shoulder for what a great, hardworking year I had for the year.
It doesn't help with all the red sale signs, blaring jaw-dropping discount prices all around the shops too, but a smart shopper knows that she/he only pick up purchases that matter for the coming seasons ahead!
Here is my ultimate gift picks (over the top ones included) for the year 2015, because one deserves a break and a massive treat to get you motivated to face another awesome 2016.
 1) Poppy Delevigne x Aquazzura
In love with soles by Aquazzura eversince I saw Anna Dello Russo trotting these on the streets of Milan back in '14. With that typical Italian flair of shoe-making and ostentatious details come in another brilliant collab (last sold-out shoe collab was with Olivia Palermo) with another known muse in the fashion world. Poppy Delevigne's the name, sister to Cara and also a known top model with a large fashion following. The label has 8 designs, all which embodies Poppy's 'kooky English style' as Aquazzura designer Edgardo Osorio described, with references to Poppy's Moroccan-style wedding and exotic globe-trotting lifestyle.
Also since I am a huge Moonie (a term for Sailormoon fans if you dont know already) , this collection hit the mark with all these Moorish symbols and mystique like the moon and stars included in the designs.
2) Alix of Bohemia
I love anything Boho, folksy and gypsy; so it makes sense that I turn my attention to this new found brand called Alix of Bohemia.
Like you would expect from its name, its a collection ridden with wanderlusty, gypsy, nomadic clothing offering for the mental and physical wanderer. Merging Italian textile legacy and French artisanal tricks together, this New York brand created a label that served a purpose to all chic bohemian dreads handmade and handcrafted by the designers. Besotted with their military style jackets in a plethora of pattern and formation of different fabrics and style.
3) The Lily drone
Those who know me and the madness in my method of photographing myself would know that this next gadget is made for me. I am absolutely a hands on person in capturing pictures of my ootds and styling myself for the blog. Along with my penchant to explore corners that may not appease to many photographers (and some cases, husband, lol) , Lily is perfect to stalk you as it uses a small transmitter in your pocket to track your movements. This means that the drone will stay with you no matter where you go — ideal for the adventure set trying to capture the full range of motion for tricks, stunts (heh) and moves. It currently is available for pre-ordering and will set you for about $819 to go 🙂
4) Christian Louboutin's Lipstick Charm/Necklace
I am such a sucker for makeup with really cool packaging and when one of the most iconic luxury shoe brands in the world decided to extend to cosmetics (started off with the nail polish line last year) you got to be excited with what they'd come up with next. Christian Louboutin delivered everybody's expectations with these new line of lipsticks with an ornate tube inspired by the Egyptian queen Nefertiti. This line of 36 lipstick shades are housed in gold-and-black vials, topped with crowns, and adorned with little loops so you can attach them to a necklace chain and wear them around your neck. Like what you would expect from a Louboutin piece, this lipstick will stretch you quite a bit at $90 per piece, but you can match similar colors to your lippy with your nails and those hot red insoles!
5) Fendi's Furocious Ski-wear
This year I had endured and got myself really into skiing while we both were in Zermatt, but the only thing I do feel little miss-out on is killing it on the fashion department on the slopes. We had rentals on and I was hit with serious style envy seeing many skiers on the piste looking absolutely flawless with their moves and of course their sleek ski gears on.
As I was taking a break, I took time to observe what they have on and what would be appropriate to have on the piste and while I do not condone wearing real fur, Fendi's ski resort line for 2015-2016 seemed to be just the right remedy to acocmodate my fantasy request.
Ideally the ones I would really love to have on would be these particular pieces, and will be on the lookout next year (for fauxfur alternatives/inspo) when we return to ski again 🙂
Lets hope the husband doesn't think this one looks like I had just mugged some of the Sesame Street cast to wear to the resort lol.
6) Jimmy Choo Moon Boots
Thanks to a few of you who had tagged me in the insta shots from Jimmy Choo's ski-centric collection, my penchant for things a little bit over the top and larger-than-life have found its way to these delicious Jimmy Choo version of the Moon Boots.
Realistically I know I will be only wearing this perhaps once or twice a year, but as a solid investment in using these til the next few years to come, I don't see why this shouldn't be a smart purchase for an activity I know I will continue to enjoy forward 🙂
Also, wont hurt to ask for a Chanel want while I'm at it.
7) Faustine Steinmetz Denim Everything
I have stacks of denim in my wardrobe; jeans alone I have close to 30 pairs, jackets up to 7 and shirts 5 – so you can definitely makeup a mental image of the color codes of my wardrobe look like. Me and denim/chambray are inseparable; they are evergreen pieces that are iconic Americana/Parisian staples that I think will defo stand the test of time. To satiate my need for all things denim, Faustine Steinmetz' collection for FW15/SS16 is the statement alternative that would be perfect to loosen up the monotony of my basic denim collection.
With her amazing technique and frayed detail (I love anything that's frayed) , her collection could go ever so well with my Boho ensembles and to hype up an otherwise elementary look.
8) Gucci Horsebit Fur-Lined Mules
And fur kept propping up in my list, but with Gucci's kangaroo fur-lined mules branded as sustainable furs I gotta grab hold of this one. After Alessandro Michele's takeover of the ailing brand; the designer have injected a much-needed youthfulness and spirit that livened up the look of the label. Alessandro managed to prove so with this cult-accessory shoe that has blown up on the street style scene; from Chiara to Man Repeller and Look Depernille.
Sure many might say its ugly; but along with other so-called the ugly shoe trend (Birkenstocks, mandals, anyone?) – this style of shoe will only remain relevant for a long time.
9) JW Anderson Silk Midi Skirt
I saw Pernille Taesbeik wore this at LFW and was instantly hooked on it. I am now hell-bent on creating a replica of the skirt myself.
10) The Entire MiuMiu Cruise/Fall 15 wardrobe collection.
I know PRADA sales are dwindling, but I promise that when/if I ever am a multi-millionaire I would very much be Prada's/MiuMiu's elite customer and contribute most of their profits entirely from my bank account alone. This is one girl gang (Mia Goth, Stacy Martin, Adele Exarchopuolous and Lea Seydoux, COME ON!) I would definitely aspire to dress up in the ranks with.
11) Chanel Boyfriend Watch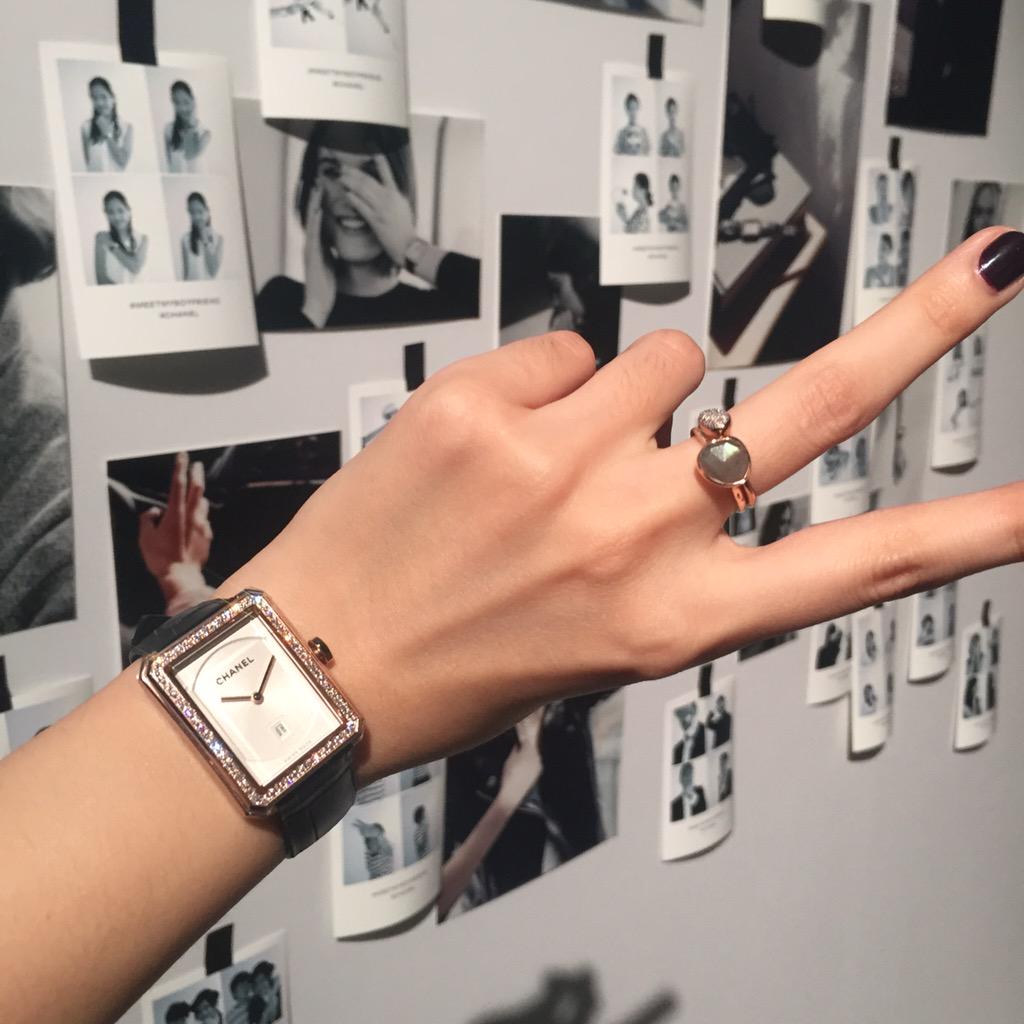 '
I have kept my accessorizing to a minimum as I grow older (wiser, baha!) but if there is one accessory I wont mind having is to have a watch that I could just have on for numerous occasions. The Chanel Boy friend watch is just the one that fits the bill; with its classic leather strap and minimalist square dial and diamond studded edges, you don't need to rely on piles of jewelry to add a touch of class into your look.
12) Loewe Accesories
If I do need to have the feel of wearing something more to add a little bit of sparkle, I would not go anymore further than Loewe to help me with that dilemma. Have you noticed my Jonathan Anderson/Alessandro Michelle's obsession out loud yet? 😛
With sleek, straightforward pieces, Loewe's range of accessories do not blare too much excess to communicate sophistication. I love how the designs follows a modernist ethos and could elevate your outfit assembly into a high-fashion platform.
13) Anya Hindmarch/Fendi bags.
Apart from all Fendi bags (currently), I would love to own a not-so corporate, corporate-ish bag if that somehow makes any sense. A bag that is sensible in keeping my bigger peripherals and documents and do not come in boring croco black like Amal Clooney's (my respect is still to you, you intelligent fashionista icon). So my answer is Anya Hindmarch's SS16 bag(s);
 This All Over Stickers Maxi Featherweight Ebury bag for a regular working day..
or for a special event, eyes will definitely go for this Fendi Micro bag:
xx