Having never seen snow (apart from that trip to Korea back in '14 where the snow was really just slush) , I was super keen to visit one of the most reknowned ski resorts in the world. Located just outside the border of Italy, Zermatt is a town located in one of the highest points of the Swiss Alps, namely the Matterhorn and Monte Rosa, the highest peak in Europe.
Our friends Bam Bam (Jonathan is his real name) and his girlfriend Sandra have been living in the small resort town for almost 2 years and have found jobs and a home in the laidback Swiss town in high altitudes 🙂 Naturally for Xmas, my husband and I decided to head to Zermatt to try our hand on skiing and just to sink in that white Christmas vibe we wont be getting this Christmas in the UK (meh). Here's our short pictorial guideline of our 6-day stay in Zermatt.
Picturesque town of Zermatt, Switzerland
Zermatt is a small , ski resort/town located on the foot of the iconic mount Matterhorn (the second highest peak in Europe, Monte Rosa is the first and is right next to the Matterhorn) . It was previously an old Wassler village, which you can still see old barns, huts and houses made of wood from centuries ago still being preserved by the locals here. The town is automobile-free allowing citizens and tourists to rent bicycles, ride their ebusses, eTaxis or horse-drawn carriages provided by some of the luxury hotels in town and heading towards the town is only accessible via helicopter, train and if you're driving, to park your car at Tasch terminal before grabbing a train or limo/taxi service. If nature walks your kind of thing, fret not; both Insta lovers and hiking lovers will love to explore the trails around town.
2. Everything is going to blow a hole in your pocket.
Switzerland is one of the most wealthiest countries in the world and their Swiss Francs is undoubtedly one of the stronger currencies out there but this also means for many Malaysians, it will be quite the struggle to comprehend the prices they've charged to stay for a night in this celebrity-haunted resort town. If names like Rupert Sanders, Brangelina entourage , Richard Branson, Donald Trump, The British Royal Family and Alain Delon (just to name a few) have flocked and owned properties here, you know you're about to get baked in the monetary department.
For starters, first time skiers like us paid quite the blow to have lessons (3 lesson pack  for CHF 600), ski rentals (CHF400 just for ski gear) and ski passes (CHF350 for a week) throughout our stay. We were lucky to have free accommodation thanks to our friends, but even with that being sorted; food and transportation takes on a big dent on our budget. When we arrived we took a 5 minute taxi ride from the Unique Hotel Post (where our friends are working) to Kamanga apartments in Winklematten which costed about CHF 35 since we were tourists (that's about RM154 for a 2 km ride towards the place!). Generally most of the food here is well worth to spend as they are ridiculously good (apart from a few bad apples which I will share soon) but leave any clothes shopping cravings out the door.
3. To go and not to go for food
Alex Hotel Restaurant – YES, YES, YES!!
You may spend quite a chunk per plate but if you're looking for a posh dining experience with a jaw-breaking interior and atmosphere then look no further than Richard Branson-haunt Alex Hotel. Now I would suggest to have dinner at this spot on the night before your departure to end your trip on a high note or as a date night destination. You will feel like an aristocrat with its elegant interior and old world set-up and suited up waiters. Imagine the most decadent of ingredients like black truffles, foie gras, gourmet cheeses and whatnot, all are compiled in the most hard-to-pronounce menu I have ever encountered. 5 star experience of which both me and my hubs really enjoyed!
Restaurant Whymper-Stube by Monte Rosa -NOPE
A lot of people have credited this restaurant for having the best Raclette dish (a special Swiss cheese served with pickles) and the famous Swiss cheese fondue in town. While that is true, the same can't be said about its main dishes. One who expected gourmet steak/dish of 5 star quality would be dissapointed (made worse with the amount of money you'd have to shell out for one), what came out was your meager Malaysian style steak with veggies that left a blank note in our tastebuds. Doesn't help that the prices charged were very confusing (if not, sneaky) to customers and staff were unfazed by our complaints at all. While the fondue was stellar, there are tonnes of restaurants around the area that offers super fondue with better service and value for money.My bet is just to stay away from this one, despite its premise as a wholesome homely Swiss restaurant.
Snowboat Bar and Restaurant, Zermatt – YES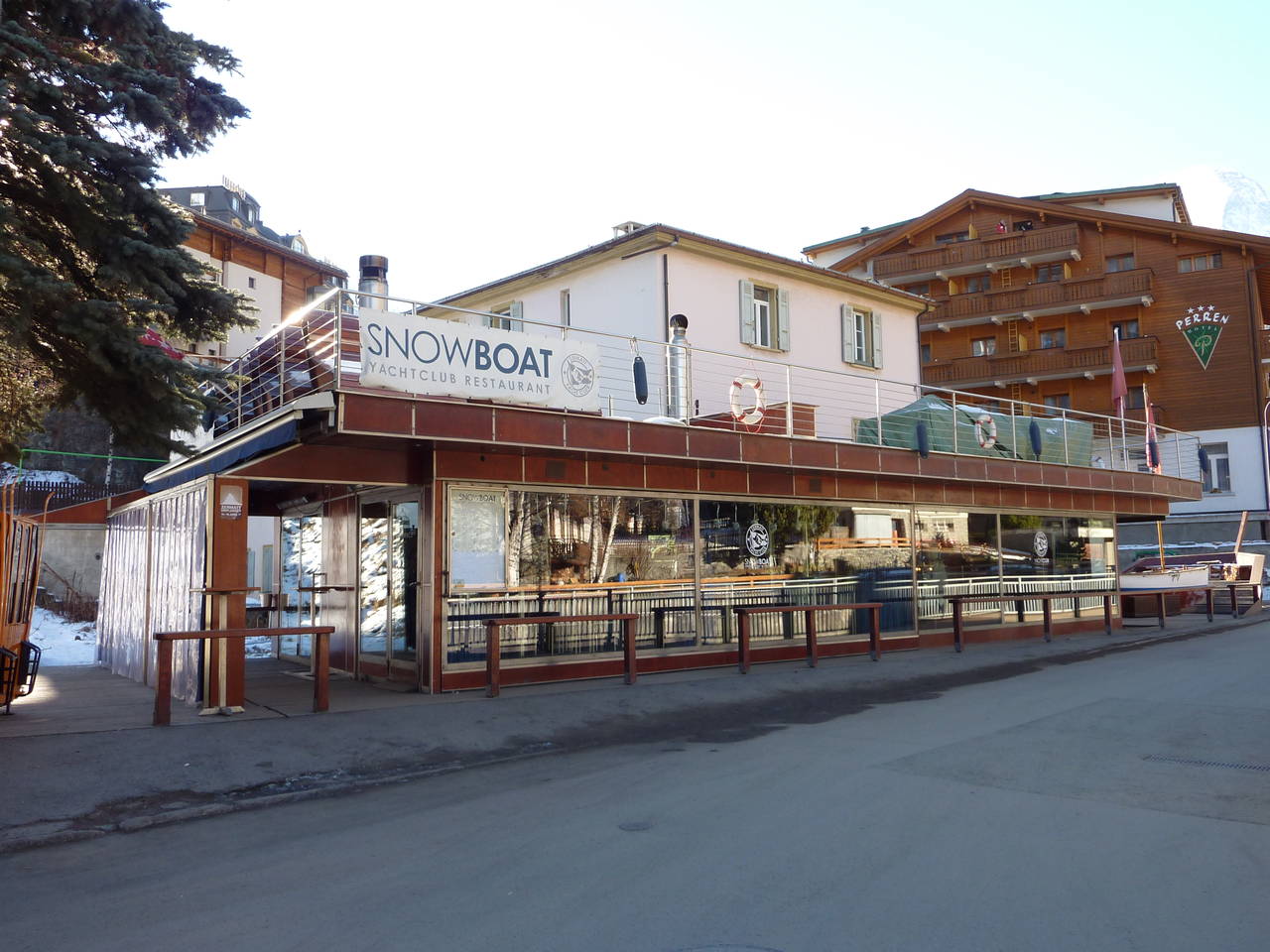 Located right at the base of the mountain tram service up to the slopes, this is the perfect stop for skiers after a long day of skiing/snowboarding. Its a bar shaped like a boat, with a basement segment for a restaurant. Its luxuriously designed with beautiful wood fixtures and chandeliers. Oh, there's a huge fishtank at the back end of the restaurant too! A for an amazing dining experience and great place to mix with other tourists in the evening.
 Unique Hotel Post's Brown Cow Bar/Restaurant – YES
I may be a bit biased because we picked a spot where our friends are currently working, however, we gotta give props to the food in this bar. From grazing bits like nachos and cheese and amazing selection (Matterhorn toast, YUM!) of breakfast goodies to bulk up on the energy before you hit the slopes; deserve our thumbs up. This is one of my favorite ports to do people-watching at, its warm and perfect during cold winter temps 🙂 Also, say hi to Sandra or Bam Bam (you can't miss him, he's the guy who looks like a  hipster lumberjacker) and you'll be sure to get some extra special treatment from them lovely both :p
Gee's Bar and Brasserie -Try the swordfish!!
This one has a decadent interior and a very posh vibe. This charming French/Swiss/Italian hotspot is buzzing with character and an amazing menu packed together. One of the things you should defo try here is the mezza platter and them Swordfish kebabs, DAMN SEDAP!
Sunnega Restaurant -BEST VIEW LIKE EVER
Imagine a long day on the piste huffing and puffing over as you fall ass first while you struggle like a toddler trying to walk, and after all that embarassment (and after seeing 3 year-olds ski past you like Flash!) , you've got a serious case of the hangry; Sunnega is your best bet. Yes, being located at the very peak of this mountain's summit; food does not come cheap and are very..basic. You got your lasagna, spaghettis and sandwiches for the price of a fine dining restaurant in KL. Not worth the money, but when you're hangers, this view beats everything out the door.
Sonnmatten Restaurant, Winkelmatten. – YES
We haven't got to sample anything from the main course, but if you're craving for some good, gourmet desserts then look no further than this restaurant way up in Winklematten.
It is much more intimate and the servers/service was good and friendly, we sampled a couple of Christmas-themed desserts and they were sublime. You will leave with happy tums!
Last but not least, pack a bunch of Caotinas to go; it is one of the best hot choc drink I have EVER had anywhere around the world.
4. Book your lessons and rent at STOKED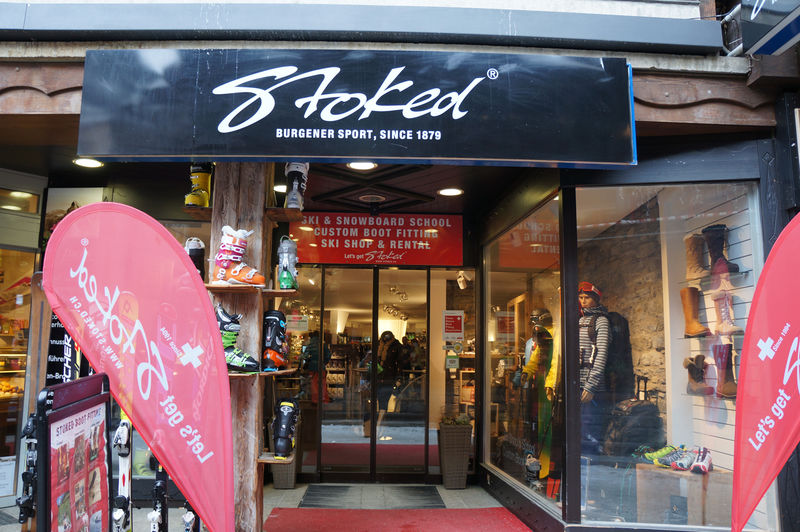 We were lucky that we had friends in the right places but given the connections, it was undisputed that Stoked is one of the best ski-learning school in the valley. They have a slew of amazing instructors that could speak in whatever language you're comfortable in speaking and direct you so eloquently according to your capability in skiing. We rented our gears over here too, and while again, they were not cheap, they did their work in protecting us from freezing our butthairs away.
5. MUST GO: Chez Vrony
On our last day of skiing, we decided to tap into our daredevil skills and head on over to one of the restaurants located right off the piste as a celebratory lunch and the last hurrah. It is almost always booked and very busy during its operating hours, and the reason is not hard to see why. Located facing the majestic Matterhorn, the restaurant serve organic home produce from livestock raised solely on alpine grass and from humble beginnings of  a small, sparsely furnished mountain farmhouse to a multiple-award-winning culinary venue, the restaurant embodies the living history of a Zermatt family going back 100 years. The dried beef, homemade sausage and alpine cheeses are based on traditional recipes, handed down over generations, too and food was top notch fabulousness.
6. Skiing isn't that hard for a petite cherie like me.
If you have skated on the ice before, this wont be a difficult of a challenge to master. By day 3 (as been told by my instructor) you will be able to handle the basics just right and ski good 🙂
The best time to really get a hand in it will be for about 4-6 days before you can ski like the others. Though I did manage it slowly, I'd advise anyone who can be quick on the skis to try their hand at skiiing all the way to Italy (25km at that!) and dine in one of the restaurants there (fact, this part of the Alps share borders with France, Italy and Austria) . One of the things I would like to do in my bucket list this year 🙂
7. Internet is scarce, so forget about it and look UP! or visit the old street!
Internet connection is the last thing you need to fumble about. This is the perfect place to destress, put the phone down and just look up to the skies. It is said that this is the best spot to look at stars and shooting stars at that. It was worth it. Also, nature people!! and a host of other actitivies you can do on the summit of the Matterhorn apart from skiing. Get a helicopter ride or paraglide across the alps. I didn't cz I am dead afraid of flying, but if you're like me, you'll find yourself with abundant of activities to get busy with than being on your laptops. We visited the old street downtown where Gadini's (old wooden farms built of logs) from centuries back are still maintained in this section of town.
There are a few along the hillside as well, restored and left in its untouched condition as they were.
________________________________
To end on a high note, Zermatt was a perfect stop to our honeymoon. Combined with the warmth and hospitality of our friends, the experience and all the amazing, breathtakimg sights in the world you'll ever have to experience. The journey begins upon entry and even continue on the way back below (come on, you cant help yourselves from belting one song from the Sound of Music during the train trip!). Everything was a stimulating, remarkable ; and if I continue further I will use up all the superlatives to describe how out of this world the experience once. Be it once or more than once, Zermatt is one place to plonk in your travel calendar,even as a day trip!
xx