Call me a cat lady, shoe hoarder or all around bag lady, I couldn't care less. How I do things, I multiply in numbers and overzealousness in collecting beautiful things.  All I know is that there are just too many good looking bags out there somehow did not find their way home to my closet space. They say first impression counts and if people aren't paying attention to my shoes, it would most definitely be focused to the bag I am carrying. Hence, my hook arm habit of carrying these said bags have further pressured my pressing need to carry ones that are sure to make heads turn or an ice breaker when times get a little bit too tricky when socializing with the bourgeoisie crowd at events. With the current saturation of all bags Chanel (don't get me wrong, I LOVE Chanel bags) but I think it's high time we excuse ourselves from the classy 2.55s or Boy bags and make other It girl options that should be deserved in the ranks of iconic bags to own.
Season after season of minimalistic delivery of satchels and totes, Fall 15 embraced the primal call of everything ostentatious and over-the-top. Shearling, fur-lined, trompe loiel detail and sequins, I mean this season has my name all over it. Here're my selections for Fall and where/how I'd wear it with or to, also is a subtle list of hints as my potential Christmas presents, or however you want to view this 😀
Diorama bag , Dior
I have not been much of a feminine-dressing person. I wear pinks only when its Breast Cancer Awareness month , worn Versace style (with dangerous splits) or dial up on the quirk factor when I don brazen shades of pinks with eceletic accesorizing. However, my love for the House of Dior gets the best of me and though I don't really swing with the Lady Dior bag, I have set my eyes on the contemporary yet French-chic sibling, the Diorama. The fact that I'm such a weakling whenever Rihanna is seen wearing something cool, only makes this pick an obvious choice of one of my favorites. :3 I love how the bag could also cater to the more adventurous dresser like the likes of Riri to the more feminine strides of Marion Cottilard 🙂
2. Faye bag, Chloe.
The bag to beat the satchels of all satchels; the Faye bag is roomy, ultra chic and matched with luxe hardware and material that comfortably plonks itself in my bag want-list. The Drew bag may have triumphed as the number one blogger favorite, but the Faye suits the bohemian lifestyle I envisioned this bag to be part of. Also, I'm a sucker for chain details on bags.
3. Men at Work bag, Anya Hindmarch
Anya Hindmarch, queen of handbags and cult accessories knows what she is doing with these loud and kitschy designs. For Fall 15, the designer took inspiration from her sights of the M4 highway roadworks. So it's only natural that she embedded these images with those Men at Work signboards and numerous street signs/construction signs embedded in her Fall collection.
Some of the bags come with these bulky, tassled leather charms and cone charms that gives it that dash of character when you tote your bag around. LOVE!
4. Barcelona bag, Loewe
Thank god for fashion wunderkind, Jonathan Anderson! Loewe's new artistic direction is anything but boring. If you're seeking for a collection that's artisan-directed, Spanish make Loewe is the name on your lips, particularly my fave Barcelona bag from their FW15 collection.
 The Barcelona's characteristic form, it's contemporary versatility – it can be worn over the shoulder or as a clutch – and, in particular, the bold color palette and rich materials it comes in make it highly desirable.
5. Dionysus bag, Gucci
Sure, you might think that standing out with a Gucci bag is an oxymoron with the knowledge that bags by Gucci is a saturated option as a statement piece. However, the Dionysus bag begs to differ.
For Fall, Dionysus bag gets the buzzy makeover. Named after the Greek God Dionysus who in myth is said to have transformed himself into a tiger to carry a young nymph across the river that then became known as the Tigris (and you can see the tiger heads closure detail). Currently am quite obsessed with anything by Alessandro Michele.
6.Blasone bag, Emilio Pucci
I have always had my eyes set on designs by Massimo Giorgetti with his baby, MSGM. Colors were always included in his designs and when he was elected as the CD of Emilio Pucci; the collaboration could not have been any more perfect. To reflect on the new direction since Peter Dundas' departure from the brand, Emilio Pucci went all out with their Boho feel for the brand's debut new look, new logo and oh, new BAG.
This is the NEW Blasone bag. Same form just with embellished details and fringing that would certainly put the spotlight on the bag than what you're wearing. The new bag comes with a new attitude, perhaps more youthful to accommodate to the demands of the adventurous dresser of today. Emilio Pucci may have done something big here, perhaps even paving the way to welcome an edgier approach to what was once deemed elite resort wear,
7. Le Dix Cartable bag, Balenciaga
Both Alexander Wang has done an iconic bag from his own line, Balenciaga has done one iconic bag that spawned hundreds of counterfeits and knockoffs til this very day and its not hard to see why.
When these two names join forces, you bet they are going to create beautiful things. Like this one:
In this perfect, ripply marble print, gold hardware and ladylike sophisticated lines and details, how can I not?!
and look who has been spotted toting one in black?
8. Fendi 's Micro Baguette bag.
I love anything and everything furry and fuzzy. So when Fendi came out with a series of charms and bags in all sorts of fur for Fall, I couldn't resist!
Sure I have already owned one in this exact color, but these other hues had me lusting over for another one. 🙁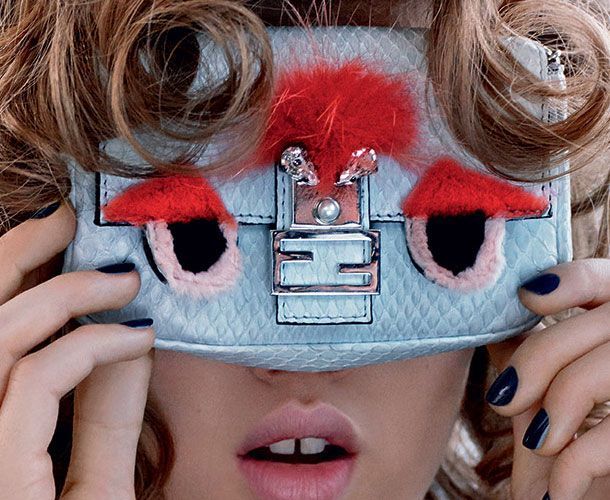 So, which one (s) is/are  your IT bag(s)? 🙂
xx